Rottweiler Rhodesian Ridgeback Mix: Unlikely Family Champion with a Crest
Did you know that the Rhodesian Ridgeback breed standard was based on that for the Dalmatian? They just had to fill in the blanks for lack of spots, and, oh yeah, that prominent ridge running down their backs.
What about the Rottweiler? Could you imagine it as among the first seeing eye dogs or the No.2 most popular dog in the US in the 1990s?
When you combine the attributes of the Rhodesian Ridgeback and Rottweiler, you get intelligence, devotion, stability of temperament, protectiveness, strength, and athleticism.
The Rottweiler Rhodesian Ridgeback mix is a large red dog that usually has a ridge and makes a good family companion for active households with older children.
Other pets can be an option if you socialize and spend a lot of time training this cross. Rottie Ridgebacks are good guard dogs and make great partners for various sporting activities.
Although the hybrid is not particularly common, we cover many of the questions you may have if you run across a litter of Rottweiler Ridgeback pups and want to consider one for your home.
The background and genetics of the parent breeds can help predict what kind of dog you can expect. However, care will play a big role in how ideal a pet your mix ends up being.
What does the ancestral tree of your Rottweiler Rhodesian Ridgeback Mix look like?
Rottweilers are from Germany with roots in ancient Rome.
Originally from Greek molossoid dogs and Italian Mastiffs, Rottweilers had ancestors in common with ancient livestock guardians and war dogs. Their earliest forefathers were crossing the Alps into Germany as early as 73 AD.
Establishing a military stronghold in Rottweil with their cattle to supply food and income, Roman legions relied on their dogs to help tend the herds, drive livestock to markets, haul their butchered meats, and protect them from thieves and the ill-intentioned.
By 200 AD the Romans had largely abandoned the dogs. Breeding with local strays and owned dogs alike, Rottweilers became even more useful to butchers who valued their guarding instincts and strength.
The selection of the best dogs over subsequent generations led to a versatile working dog that just barely survived the arrival of the railroad in the 1830s.
Rottweilers would move from driving cattle and guarding purses to the police force and later World War I. Similarly to the German Shepherd. Rottweilers eventually found use in guiding the blind.
Germans brought the first Rottweilers to the US in the waning years of the 1920s. A dog named Stina v Felsenmeer marked the entry of the Rottweiler into the AKC in 1931.
The breed joined the UKC in 1950. Historians believe the Rottweiler's most closely related living cousin is the Great Dane.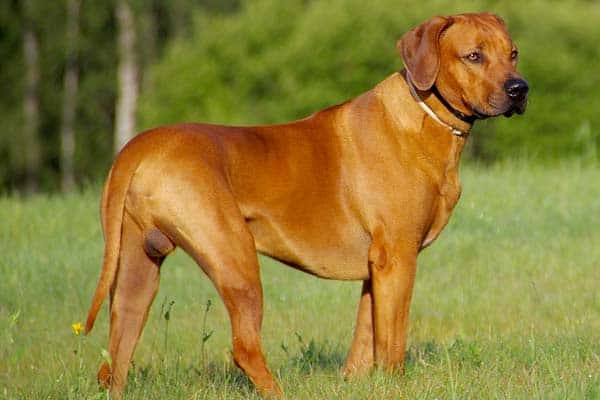 The Rhodesian Ridgeback is from historical Southern Rhodesia.
The first half of the Ridgeback starts with the ancient landrace Khoikhoi dogs that the native people of the same name used in Southern Africa. Much more than hunting dogs, These Banju or Afrikanis dogs also guarded property and tended their owners' cattle.
They were 18 to 23 inches tall and lean and muscular. Most had erect ears and resembled a cross between a Greyhound and a Cape Hunting Dog.
Many of the dogs the KhoiKhoi acquired sported a striking ridge down the back. Meanwhile, the Dutch began earnest trading in the 1600s in the Cape of Good Hope. Other European nations such as Britain, Portugal, and Germany would arrive soon after.
As usual, they brought their dogs, which crossed with the Banju dogs to produce the so-called Boerhunds.
The most influential of the European breeds on the Rhodesian Ridgeback was the Great Dane and Bulldog, but there may have also been infusions from Greyhounds, Bloodhounds, Airedales, and Mastiffs.
The resulting Boerhund dogs developed floppy ears and long legs. They were proficient hunters and invaluable on the farm.
In 1879, Reverend Charles Helm brought the first Ridgebacks or crested dogs to Rhodesia, where they assisted foreign big-game hunters.
In 1922, Francis Richard Barnes drew up the breed standard for the African Lion Hound whose name was changed by the South African Kennel to Rhodesian Ridgeback.
The African dogs made their way into the US via six imports into Arizona in the early 1950s. Although they appeared earlier in actor Erroll Flynn's breeding program in Hollywood, California, in the 1930s, that line did not survive long enough to contribute to the breed in America. The AKC recognized the Rhodesian Ridgeback in 1955 in the Hound group.
Why is there a Rottweiler Rhodesian Ridgeback Mix?
The history behind the Rottie Ridgeback mix is murky but likely began in the US well after the 1990s. Crossing the breeds does not create a better hunting dog or a more adept herder.
Somebody probably sought to achieve a certain look that would be attractive, majestic, and unique at the same time. One thing you will get is more speed on the Rottweiler and more protectiveness in the Rhodesian Ridgeback.
Can you predict the appearance of a Rottweiler Rhodesian Ridgeback Mix?
Rottweilers are hard to miss with their imposing size of 22 to 27 inches at the shoulder and 85 to 130 pounds.
On top of that is an intimidating coolness with a steady gaze and impressive breadth of the head, shoulders, and chest. The FCI and AKC only recognize black and brown as possible colors, and purebred Rotties mostly fit the mold.
Rhodesian Ridgebacks have a dignity that belies their survival mode background and attitude. At 24 to 27 inches, they are tall but only weigh 70 to 85 pounds.
Your mix will likely express characteristics of both parent breeds. Your puppy's face will end up a little wide when she grows up. Her muzzle will be medium-sized, her eyes brown and almond-shaped, and her ears larger and with a lower set than the Rottie.
The ridge of hair along the back growing in a reverse direction from the rest of the coat is a dominant trait and will more likely than not be present in your puppy. Expect a curled tail that is neither plumed nor bushy and that barely passes the horizontal plane.
Your dog's back will be level, and your dog will appear leggy like the Ridgeback. You will also notice a strong, thick trunk. Ridgeback Rottie crosses are 23 to 28 inches tall at the shoulders and weigh 85 to 100 pounds.
The coat is short and may or may not have Rottie's undercoat which is likely to be minimal. Your mix will probably be wheaten in shades from light beige to red. Your pup also has a chance of being black with brown points as would be typical for a Rottie.
Both wheaten and black with tan points are expressed through the Agouti series for canine coat colors. Agouti alleles come in four variations and express incomplete to complete dominance over each other.
"Ay" – Fawn, yellow sable; Dominant over other colors in series
"Aw" – Wild sable; Similar colors to wolves and other wildlife; Incomplete dominance over black and tan
"At" – Tan points; Breed can dictate the pattern of markings whether brown points are minimal, in saddle pattern, and more
"a" – Solid black; Recessive to other colors
Wheaten in the Ridgeback is a form of yellow sable with the colors on the hairs showing as bands. This manifests as black-tipped fur on the Rhodesian Ridgeback.
The AKC frowns on too much black shading in the coat, but some dogs are quite dark and may have other colors in their genotypes. Early Rhodesian Ridgebacks were brindle or black and tan as well as wheaten. A rare Ridgeback will still show up with a black and tan coat.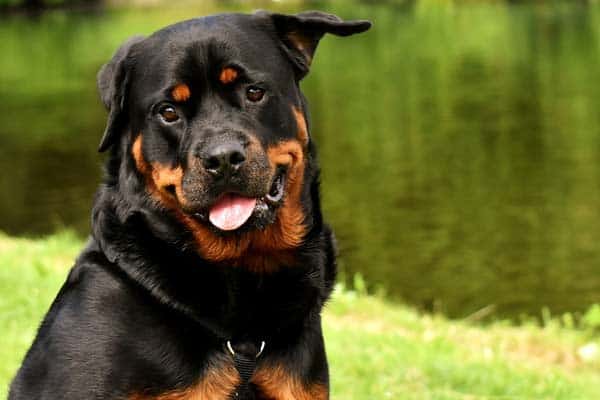 What can you observe about Rottweiler Rhodesian Ridgeback Mix's personality?
An RR-Rottie, like any mixed breed, may have her most unpredictable qualities come out in her personality. However, some traits will be fairly consistent.
True to both of the parent breeds, the mix will be even-tempered, watchful, loyal, and devoted. She will also be protective of her family, intelligent, and highly active.
The cross is great with children over the age of nine years. As is true for any large breed, you have to exercise caution when your dog is around smaller kids because of her large size and high tendency to be rough and rambunctious.
The Rhodesian Ridgeback in your dog has a high prey drive that translates to an urge to chase fast-moving things, including bicycles, screaming children, and cars.
Some dogs may respond to training while others may be able to redirect it into activities such as coursing, luring, and herding. On the other side of the coin, Rottweilers herd larger livestock by using their chest and shoulders. The combination can be hazardous to toddlers.
Rottweiler Rhodesian Ridgeback Mix and Other Pets
Your mix, if social, can learn to live with the cats he shares his home with. However, he may still chase your neighbor's cat and could be a menace to Toy breed dogs. For the most part, your Rottie mix should be able to play well with larger dogs.
Rottweilers sometimes show same-sex aggression against other canines, but Ridgebacks developed to hunt in packs like many hounds and are social by nature.
Are Rottweiler Rhodesian Ridgeback Mixgood guard dogs?
Your mix more likely than not will be an excellent deterrent against trespassers and criminal acts against you or your home. Both breeds have a strong background in guarding property. Rotties have a keen guarding instinct for family members as well as the surrounding premises.
Are Rottweiler Rhodesian Ridgeback Mix easy to train?
With Rottweilers, your major challenge will be territorial aggression while with the Ridgeback, you have to contend with a strong predatory drive. You need to work diligently at socializing with your mix or you will face indiscriminate and unprovoked aggression against other people and animals.
As with other hounds, Rhodesian Ridgebacks hunted away from the people. They kept lions or other games at bay until the hunter could catch up.
Ridgebacks are programmed to take action on their own and can be highly independent. Moreover, their bold and confident persona can be intimidating for first-time owners. Rottweilers can also be independent thinkers and willful, overwhelming their owners with their power.
Your mix will need persistent and positive training from a young age from an assertive person who has leadership skills. Enlist professional help wherever you feel lacking or if you have doubts. Professional training works best in combination with your involvement so your dog learns she needs to still take direction from you.
Approach guard training with caution as improper methods can foster unprovoked attacks. Take into account where you live as breed-specific legislation targets guard dogs and their mixes.
Be aware that Rhodesian Ridgebacks are facing increasing bans, indicating that many people do not know how to effectively train or handle them.
Your dog will be exceptionally smart, Stanley Coren ranks the Rottweiler and Rhodesian Ridgeback No.9 and No. 52 respectively, according to Petrix.com. In working intelligence, your dog will probably rank in the high 20s with Vizslas, Giant Schnauzers, and the Cardigan Welsh Corgi.
How do you care for your Rottweiler Rhodesian Ridgeback Mix?
Your cross will have a few additional care needs that other breeds may not require. In some areas, the mix is a low-maintenance dog.
Exercise – Your dogs need two hours or more of exercise every day; Both parent breeds can present destructive and antisocial behaviors from lack of exercise
Grooming – Brushing weekly, but more often will decrease effects of shedding; Bathe every 6 to 8 weeks and trim nails monthly
Shedding – mild to moderate; May increase a little in the spring and fall
Feeding – 1300 to 1850 calories for an 80-pounder; 3 to 6 cups of dog food spread over two or more meals a day
Love – This mix requires plenty of dedicated time for engaged play and displays of affection
Socialization – The critical period to expose your puppy to all types of different environments, animals, people, sounds is 6 to 16 weeks
Mental stimulation – Separate from physical exercise but you can dedicate a portion of strenuous activities to mental challenges; Basic training counts for puppies as do advanced exercises for adults such as agility, Shutzhund, luring, coursing, tracking, search and rescue, and herding
What are some health concerns for Rottweiler Rhodesian Ridgeback Mix?
Rottweiler Rhodesian Ridgeback mixed dogs are healthy, but typical of large breeds, only live nine to twelve years.
The mix may decrease the appearance of such problems as early-onset bone cancer in Rotties and dermoid sinuses in Ridgebacks. Dermoid sinuses are tube-like spaces under the skin sometimes connected with the outer membranes of the spine. Rottweiler Ridgeback mixes are most likely to suffer from the following ailments.
Hip dysplasia
Elbow dysplasia
Hypothyroidism – low thyroid hormone production
Cruciate ligament rupture – Similar to knee ACL tears in football players and others
Rottweiler Rhodesian Ridgeback Mix Live
One of the distinctive features of these puppies is regardless of color, both have the face and profile mostly of a Rottie and the loose-hanging ears of the Ridgeback. They also have the signature ridge of hair down the back.
The black and tan puppy has brown markings exactly where you would expect them for a Rottweiler. The red pup has the color of a purebred Rhodesian Ridgeback.
Most puppies of this particular mix are shades of wheaten (tan to red) with a dark overlay mostly on the part of the body behind the shoulders.
Related Post